"QUBE" – system of frames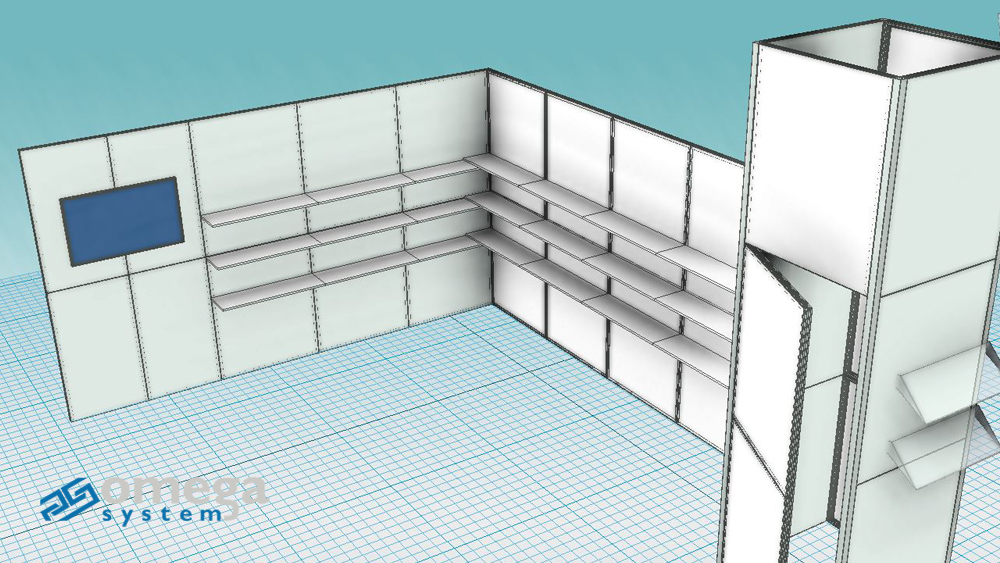 QUBE – is a modern system of frames and accessories, used for space arrangement, multiple use and for permanent expositions with versatile applications.
Basic elements of QUBE System are two types of frames made of light aluminium profiles:
QUBE frames filled with board
QUBE frames filled with fabric
and also:
straight and angular connectors

hinges
and a wide range of useful accessories.
They form one system, they are compatible with one another and can be connected and used in various configurations and use them for many purposes.
The main features of QUBE system are:
Clear form – visible constructional elements of the exposition are minimised, thanks to which graphic message placed on panels is highlighted

Modularity and compactness – frames are like blocks, they fit together, trigger imagination, after packing – take up little space, applied – they create spatial structures

Re-configurability – one set of frames and accessories can be used for making many different stands, room-dividing elements and other arrangements

Easy assembly and disassembly – QUBE system was designed so as to minimise the use of tools, they are not necessary to connect basic elements. Aluminium frames are light and they do not require any effort when you need to assemble and disassemble them.

Easy transport ad storage – thanks to such accessories as trolleys, covers, accessory boxes,

a frame set, when folded, takes up very little space, it is portable and protected from dust and dirt during storage.

economy – one set of frames can be used many times, also for events and enterprises of different character, you can build many structures that differ as far as their shape and application

are concerned by changing merely graphics.
Look how simple it is 🙂

QUBE frames filled with boards
QUBE frames filled with board:
compact – a few frames can be connected into various systems within one set

mobile – individual frames are relatively small, thanks QUBE accessories they are easy to transport and store

graphics can be easilyreplaced, thanks to whichthey can be adapted to the events devoted to different topics without unnecessary costs

they are filled with light pvc board as a standard, mostly with print applied

thanks to application of several ways of fixing, they can be filled with various boards depending on the purpose of the construction, there – also with furniture boards, which enables

to use many patterns and increases the spectrum of system application.
Formats of the framesmay be adapted to the needs, although we most often use them in standard dimensions.
Standards dimensions:
100 cm x 125 cm

70 cm x 125 cm

50 cm x 125 cm

100 cm x 100 cm

70 cm x 100 cm
Boards fixed to frames with magnetic strips.
When a bigger holding force is required or the arrangement is of a permanent nature, stronger, more durable solutions are used, e.g. velcro.
QUBE frames filled with fabric:
thanks to application of fabric, frame size may be substantially bigger, which enables to obtain larger, uniform graphic surfaces, apply large, non-standard formats

fabric frames are much lighter, they are easier to suspend or fix on the wall

graphics are replaceable – you must just use fabric with new print

frames filled withfabric can have any dimensions as long as one side is not longer than 300 cm
Fabric is fixed on frames in a simple way with sewn gasket.
QUBE connectors
QUBE system is equipped with strong connectors that enable to:
connect frames at various angles

connect frames in different configurations,

connect frames in a non-standard way, so that they form extraordinary, surprising arrangements
Main angles include:
90 degrees

120 degrees

135 degrees

3 x 90 degrees

4 x 90 degrees

3 x 120 degrees

3 x 135 degrees
Special attention should be paid to IMPRESSION connectors with unusual shapes, adapted to designers' and users' visions, they give the possibility to create unique arrangements. Connectors also have an additional function – they strengthen the construction, which is especially useful when building more complex and high constructions. Application of connectors is really simple, it does not require the use of tools, like most solutions of QUBE system.
QUBE hinges
QUBE hinges are used for connecting frames and their smooth positioning at any angle.
A wide range of rotation – 180 degrees (from right angle to right angle)
No clearance between connected panels in any position of frames
What must be highlighted is their innovative character, connecting the two features above, unprecedented in this type of constructions.
Hinges are also used for building doors.